I never thought I'd be geeky enough to write this article, but here I am providing a cost breakdown of what it costs to run my wood burning stove. I put this together because I live in the UK and at the time of writing energy prices keep going up. So I wanted to find out what the difference in cost was for running my log burner vs using my gas central heating. 
If you're reading this article, then you're probably either looking to buy a wood burning stove, or are like me and like to over analyse life expenses! 
So, hopefully, my cost breakdown of owning and running a wood burning stove proves helpful to you! 
I should say right at the start that I live in the UK, so while the below will still be of use to our cousins across the pond, everything is put into pounds and pence!
Update: At the bottom of this article, I've included a running cost calculator that anyone can use to help you figure out how much it costs to own and run a log burning stove. 
All the costs I've considered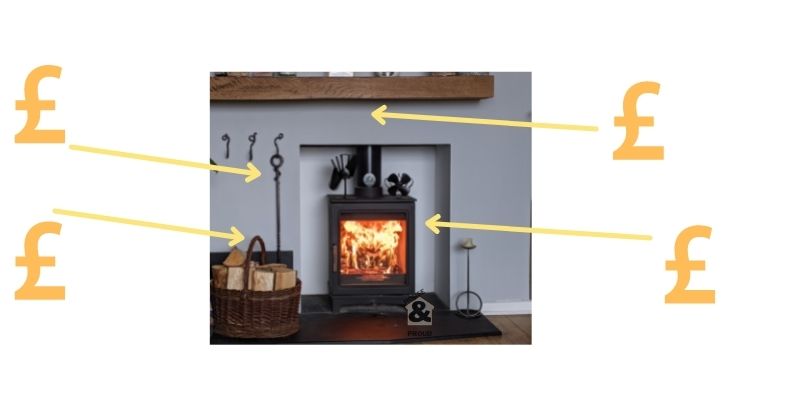 First things first, I have completely discounted what it cost to purchase our stove and have it installed. 
I know some accountants out there would factor in the fact that at some point I'll need a new stove, so my total costs should account for that. But, life's too short. That said, later, I do go into what it would cost to set aside some money each month to cover repairs.
The costs I've accounted for are as follows:
How much firewood costs me each year.
How much it costs for firelighters.
The price of wood burning stove fans and thermometers (assuming they break every five years).
The cost of having my chimney cleaned.
As you can see, I haven't factored in kindling costs and I don't bother buying this. Instead, I use off cuts from wood working projects (pine is a fantastic kindling, no matter what people say). I also split my own out of my wood supply, and the old boys on the street also give me their offcuts too.
For me, the costs of running a log burner are as follows. 
| | |
| --- | --- |
| Item | Annual Cost |
| Kiln dried wood | 300 |
| Firelighters | 30 |
| Stove fan (Assuming a new one every 5 years) | 6 |
| Stove top thermometer (Assuming a new one every 5 years) | 2 |
| Chimney Sweeping | 50 |
| Rope seal replacement kit (Assuming new seals every 4 years) | 5 |
What is the annual cost of running a wood burning stove?
Using the figures above, we can see that the total annual cost of running a wood burning stove comes to £393 a year. 
Of course these figures are based on my personal use, and for other people the costs may be slightly more or less. 
I would say that for the majority of people who own a wood burning stove and use it fairly regularly over winter, then your annual costs are likely to run anywhere between £350-400 a year.
How much does it cost to run a wood burning stove per fire? 
Using the above calculations, it's then easy to work out how much it costs to run a stove on a per fire basis. 
We start using our wood burning stove in September most years, and stop using it in March. That's 7 months of the year. 
Now, we don't burn it every day throughout this period. 
Instead, we mostly burn on weekends and the occasional weekday evening. On average, we have about 4 fires a week. (This figure accounts for the milder weather in September, where we burn less frequently, and the much colder spells where we burn most days). 
This works out to 112 fires annually over the Autumn/Winter period. 
The cost of each fire in a wood burning stove therefore works out to approximately £3.50. 
If we were to burn more than this, then our wood costs would increase, so I think that this is a pretty good ballpark figure to work with! 
Are wood burners more or less expensive than gas central heating?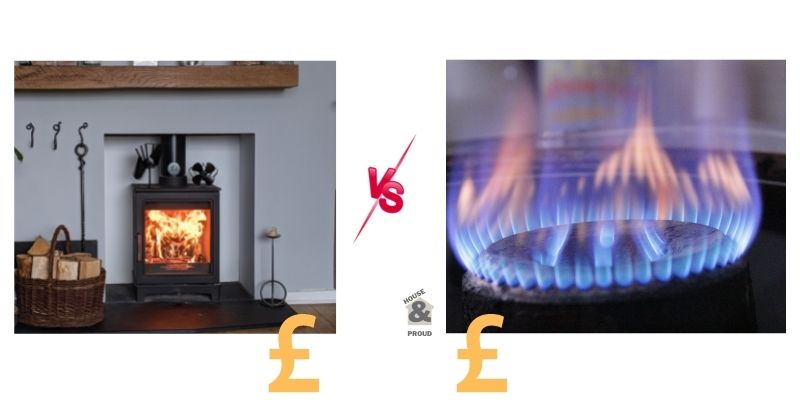 The logical question once you've worked out how much it costs to run a wood burning stove, is whether it's more economical to run than gas central heating. 
Now, to work this one out, you have to consider how long a typical fire in a wood burning stove lasts for. 
For us, I would say each fire lasts on average around 6 hours. Sometimes more, sometimes less. 
This means that it costs us 58p an hour to run our stove. 
I've not got a clue how many KwH our boiler runs at, but a quick Google search says that most combi boilers operate at around a 24 kWh output. 
Currently, the average cost of a kWh of gas in the UK is around 4p. 
So, per hour of heating costs roughly 98p. 
Based on this crude calculation, then, it costs more to run your central heating than a wood burning stove. 
If you don't have your central heating on while you have your stove lit, then the "per hour cost" of running your stove falls by 98p as it saves you from running your boiler.
This would mean that for every hour you run your fire and aren't running your central heating, you're saving 40p. Not too shabby!
However. 
Wood burning stoves don't heat your whole house. So, therefore, it's not really a fair comparison to look at gas central heating costs vs a wood stove.
But, if you're just looking to warm one room – with some added warmth in others – then lighting a fire is cheaper than turning on your central heating. 
Is a wood burner cheaper to run than an electric heater?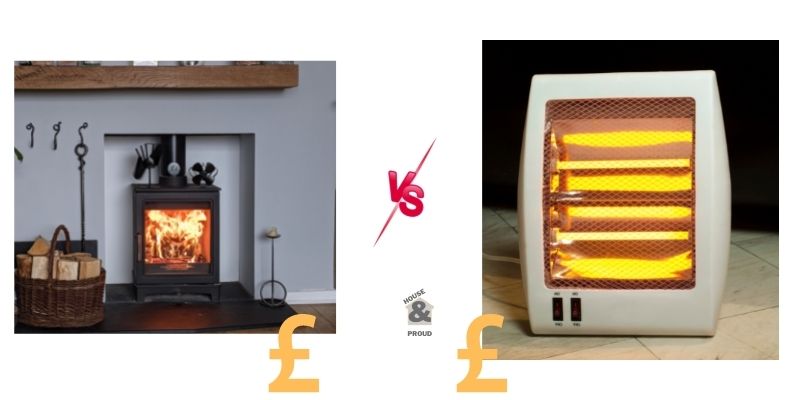 This is a really interesting question to work out. Unlike comparing the stove to central heating, which heats your whole house, looking at the running costs wood burning stoves vs electric heaters is a direct, pound-for-pound comparison. 
Of course, there are a whole variety of electric heaters which have different kWh running costs. 
The most common electric heaters, though, run at 2 kWh. 
Therefore their hourly running costs are 2x the kWh cost of electricity. Currently, electricity costs around 22p per kWh in the UK. So heating a room for 1 hour using a standard heater costs 48p. 
So, based on the figures set out above, it is cheaper to run an electric heater than your wood burning stove as it costs about 14p an hour less. 
That said, if you were to have a heater with a 3 kWh output, then it would be cheaper (just) to light a fire. 
Of course, if you were to compare the costs of actually buying an electric heater vs a wood stove, then the electric heater would win hands down!
How much it costs to run a log burner per month? 
There are two answers to this question. The first, most obvious one, is annual cost of a log burner, divided over the twelve months of the year. 
On a monthly basis, then, running a log burner costs approximately £33 a month. 
The second way of answering the question is to consider the monthly cost of a wood burner while in use. As noted, for us, we use our stove for 7 months of the year. 
This would then put the monthly in-use cost of a wood burning stove at £56 a month. 
This would then be the approximate monthly cost if we were to use it year-round. 
How much should you budget for owning a wood burning stove? 
The answer to this question is not just as simple as applying the monthly costs set out above. 
This is because you'll also need to take into account the "what if" costs of something going wrong. This could be anything from needing additional chimney sweeps, repairs to your flue lining, or the unexpected cost of replacement parts on your wood burner. 
A good rule of thumb I use when working out a budget for repair costs is to assume that you'll need to put aside 10% of the cost of the item each year. This works for me for things like cars and houses etc. 
It's not an exact science, but the 10% works well because it assumes that the more expensive an item is, the more it's going to cost to repair! 
Most wood burners cost around 1500 (give or take), so the 10% rule would say you've got to set aside around 150 a year (or 12.50 a month) to absorb the cost of things going wrong. 
If you don't spend this, then after 10 years, you'll have enough to then buy a new stove! 
Adding this to the monthly costs above, then, you should aim to budget around 45 a month for your wood burning stove. This will mean you have enough money to keep it running, as well as some funds set aside for if things go wrong. 
Finally, is a wood burner expensive to run? 
With all of the above set out, and the monthly cost of running a wood burner being approximately £45, then I would say that yes, wood burners are expense, but they're not that expensive to run. 
Now, for some people, £45 is a great deal of money. However, if we consider that £45 is what some may pay for a phone contract, or a gym membership, then it puts the cost into perspective. 
While wood burning stoves can have their disadvantages, given the fact that they provide you with near daily comfort in the winter, look cool, and save on your heating bills, then £45 a month doesn't seem too expensive to me. 
Of course, if you add the costs of buying the stove, and installing it, then that's probably where it can start to be considered expensive! 
Running cost calculator
After I wrote this article, I realised that it would be fairly easy to make a calculator for everyone to use.  Simply input the figures required and the calculator will tell you how much it costs you to run your wood burning stove! 
Don't worry – you don't have to enter your email to get the results or whatever. I hate sites like that!
In the example text, I've put the figures used in this article. If you don't have an exact figure to hand, feel free to input these.
Summary
Hopefully you've found this article (and the calculator) useful – whether you're a current or would-be stove owner! 
All in all, if you're like me and like to research how much things cost before buying something, then I would say that owning a wood burning stove is completely worth it!