Wood-burning stove glass turning black and getting smokey is a common problem for new wood-burning stove owners. Luckily, before I bought my wood-burning stove I did a lot of research into tips to prevent soot build up on wood burning stove glass. This is because my parents had this exact issue with theirs, and I didn't want it to happen for me. 
Our woodburner has been installed for 3 years now, and we've never had a soot build up problem. So, here are my top tips for keeping your wood burning stove glass clean and soot free. 
At the end of the article, I'll show you the best, and easiest, way to clean your wood burning stove glass.
Tip one: Start your fire hot, and end it hot.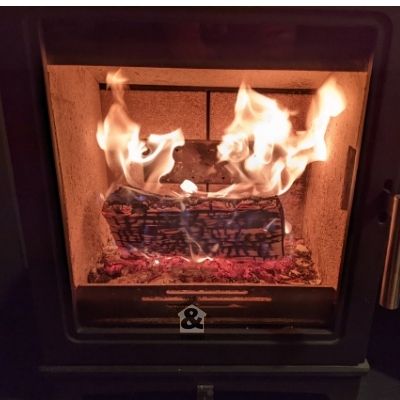 This was a tip given to me by a salesman in a wood burner shop after I asked the question of how to keep the glass soot free. It was the best single piece of advice I've had about owning a woodburner. 
The logic is that smoke – the main cause of soot build up – is caused when there's incomplete combustion of the wood. Basically, if there's not enough oxygen, you'll get smoke. 
An easy way to tell if your fire is getting enough oxygen is if it burns fast and hot when you first light it. I've got an article on this site about the best way to start a wood-burning fire if you're interested. 
So, starting your fire hot helps to instantly reduces the amount of smoke, which builds up over time to create black glass. 
Now, this is only the first part of the tip. The second part concerns how you end your fire. 
For me, I think this is the most important part. After starting your fire and it's burning well you'll most likely want to close off the air vents to your stove so the wood lasts longer. 
The problem, as the salesman explained, is that most people then don't reopen this vent when they call it a night. 
As a result, the fire slowly does and the remaining logs start to smoulder. Again, this is what causes the build up of soot on your wood burning stove. 
All you need to do to fix this is to make sure you open up your stove vents when you put your last log on the fire. Simple. 
The log will then burn up bright and fast, and again their won't be the problem of "incomplete combustion". 
Tip two: Make sure to warm up your flue.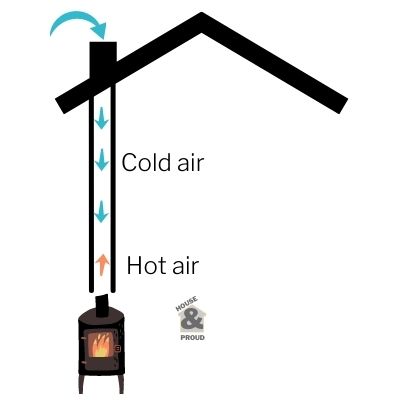 Let's face it, most people use their wood burner when it's extremely cold. 
The problem with this is that there's a massive difference in temperature outside than in. This means that there is not always the right amount of "draw" coming from the flue to suck up smoke that is produced. 
Basically, the flue is filled with cold air which is heavier than warm air. It's like a slow moving traffic jam of air.
You'll know if you're suffering from this issue if smoke seems to creep out of your stove when you first start off the fire. This causes soot build up, which can turn your glass black. 
You can get around this by pre-warming your flue. 
This can be done in a few ways:
You can set off a single fire lighter before you actually build your fire. 
You can light a ball of paper and achieve the same effect. 
Or, you could even get a hair dryer and blast it on the stove pipe. 
A much better method, in my opinion, is to use the top down method of starting a fire. This gets a hot, direct flame going right at the start of the fire. When I use this method, I never have to pre-warm the flue. 
Tip 3: Don't let wood rest against your wood burning glass.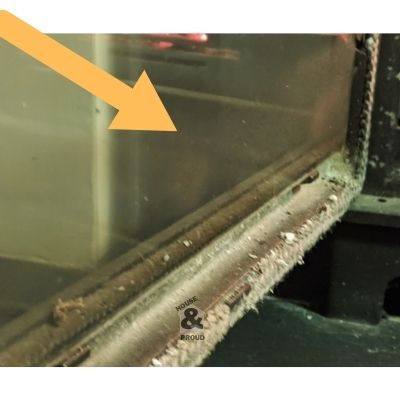 I'll keep this one brief because it should be a no brainer. If you let your wood get too close to the glass, or ever rest on it, then you'll get smoke/creosote silhouettes on your wood burner glass. 
Obviously that's not what you want. 
While this is super obvious, this does happen to us from time to time if we've done a poor job balancing new logs in the fire. When they burn, they fall over and rest against the glass. 
So, just make sure you keep an eye on your fire and you'll be all good! 
Tip 4: Burn good wood, don't burn dirty wood. 
If you've read anything about wood burning stoves before, you'll have come across the rule of thumb that you should only burn wood if it's below 20% moisture levels. 
Basically, that means kiln dried wood. 
A low moisture level helps to get the fire hotter faster. It also means less smoke.
If you follow the other tips and only burn good wood, then you'll be unlikely to get really dirty wood burning stove glass. Check out my article on the best woods to burn (in my opinion). 
However, if you burn offcuts of ply and MDF, or wood that's got a higher moisture level. You'll run into problems. 
Composite woods have glue and chemicals in them that can be really nasty if burnt (not great for the neighbours). They're also constructed in a way that means they don't actually burn very well, and they give off quite a bit of smoke.
Wet woods – well just imagine putting a bunch of wet leaves on a fire… it's smokey as anything. 
How to quickly clean wood burner stove glass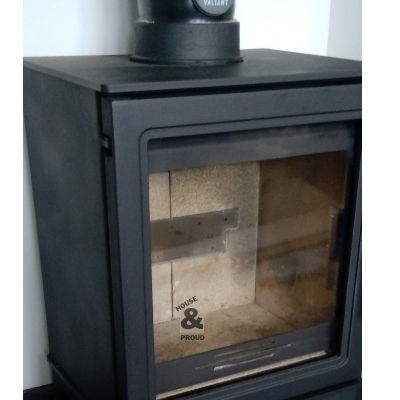 So, even if you've followed all of the tips above to keep your glass from going black, you'll still find a need to clean your glass from time to time. 
If you search online for tips to clean your wood burning stove glass, you'll find loads of random hacks like using newspaper and ash. I've tried them all – trust me – and they really are just too much effort. There are much better uses for left over wood ash!
Especially any tip involving the use of wood ash and vinegar! It does work, but it creates extra mess. Not only do you end up with ash on your hearth and hands, but you also have to wipe away the wet ash from your stove glass. Plus it stinks.
Instead, the quickest and simplest method I've found is to use some sort of basic cleaning spray (like window spray, or even anti-bac) and paper towel. 
Not very life hack-y but it does the job for me 9 times out of 10. 
For the times it doesn't work, it's because there's smoke/creosote baked onto the glass where the wood has been too close. 
Then, I just switch the paper towel for an abrasive sponge and scrub. It takes probably thirty seconds from start to finish and there's no mess to clean up after. 
The only time I'd recommend using ash and vinegar to clean your stove glass is if it's really, really dirty. In that case, the ash is probably your best best because it acts like a huge abrasive pad. The vinegar also helps to dislodge really baked on stuff. 
All you do is dip a paper towel or a bit of newspaper in vinegar, dab it in some cold wood ash and start scrubbing. 
What ever you do, don't try and use a fire poker or ash shovel as a scraper – one wrong tap and your glass could break (unlikely, but why risk it?) 
Here's a video showing you how to clean your glass using ash – as you can see, it works but it is a bit of a faff.
How often should you clean wood burning stove glass?
If you follow the tips set out in this article, then you shouldn't have to clean your stove glass more than once every two months in a winter period. During that time, it may get a small build up of soot, but nothing that will prevent you from enjoying your fire. Basically, it won't look that dirty.
Obviously, if you don't follow these tips, and burn lots of damp wood, then you'll likely find yourself cleaning your stove glass around once every few weeks. So, in other words, if you want to avoid having to clean a lot, then make sure to follow my tips! But hey, it's a free country so do what you want!
Summary: how to keep your wood burning stove glass clean.
Hopefully this article has been helpful, and different from the generic rubbish you sometimes read online. These are real tips from a real person – please check out my other articles if you liked this one. It means a lot. 
Thank you.