If you're like me, then you're after a straightforward guide to fitting some garage shelves that are cheap and sturdy. Well, you're in luck, because this article is exactly that! I'll take you through a step by step process to creating your own garage shelves – DIY style. 
Now, first things first, full disclosure: these shelves are made out of OSB (or particle board). The reason for this is that they are straight, strong and are somewhat damp tolerant – much more than MDF at least. OSB is also much cheaper than plywood! 
I also added a small modification to the shelves to reduce the chances of chipping / tearouts over time – read on to find out more (oooh the suspense!)
In total, it cost less to build these shelves than it would to buy a substandard shelving unit. It also took 1.5 hours from start to finish, so not even an afternoon of work!
You can of course follow along with the garage shelf installation tips below if you're using plywood, scaffolding boards etc. But honestly, if you're not sure what wood to build your garage shelves from, then you can't go far wrong with OSB. 
Now, onto the step by step instructions for making your own garage shelving. 
Personally, I find written guides easier to follow than videos, but don't worry – I've included lots of pictures and diagrams to help those of you who like to see how things are done.
Step 1: Gather the materials that you'll need to make your shelves.
Ok, so first things first. To make your own garage shelves, you'll obviously need wood. The beauty of DIY garage shelves are that you can make them as long or as short as you want, but to help you out, I've listed all the materials I bought (and their measurements below)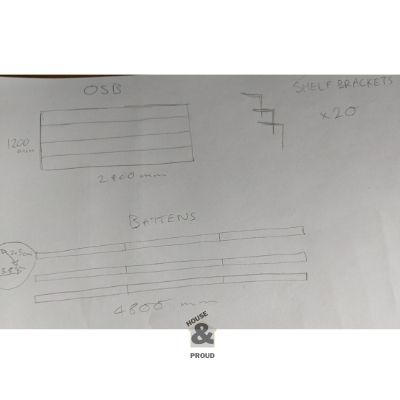 Wood to make the shelves
For me, my shelves are 2.4 meters in length and 30 cm deep. I wanted four shelves, so that meant I just needed a 2.4 x 1.2 m board of OSB, and I asked the woodyard man to cut it into 4 lengths. Simple. 
Shelf brackets 
I figured that I wanted these shelves to be super sturdy, so I got 5 brackets for each shelf (20 in total). I opted for some beefy London Brackets, which weren't that expensive and measured 30cm long.
Mounting battens
I also didn't want to be drilling a million holes into the brick walls of the garage (it's a pain), so I opted to mount the shelves on some wooden battens. (2.5×3.8cm). 
These came in 4.8 m lengths, and so I got 3 and just cut them down so they were six 2.4 meter long batons. This meant I had 5 battens to screw the brackets into, and one batten in case anything went wrong.
Edging strips
Finally, the only other thing I needed were some thin wooden edging strips to nail into the face edges of the shelves. Again more on the reasons why later. 
Fixings
Oh, and lots of screws (I just used ones from a massive multipack of screws I have), a few nails, and some wood glue.
When fixing the battens to the wall, I used frame screws – these don't require a Rawl plug. Just drill a 6mm hole in your masonry and then the screw will do the rest of the work.
Step 2: Tools 
Tools for this job are really simple. I've broken the list into essential, and optional, to make clear how straightforward the basic tools you need are. The optional tools are there to make your life easier and the build quicker. 
Essential tools
The essential tools for fitting your own garage shelves are:
A decent drill and screwdriver attachment 
6mm masonry drill bit 
A saw for cutting your battens to length
A tape measure 
A spirit level 
A hammer (if you opt to fit some edging strips)
Pencil 
Quick plug for another article you might enjoy – how I organized my drill bits in 7 minutes and 53 seconds!
Optional tools
Gloves (to make it easier to handle the wood)
Impact driver (these make life so much easier – especially when you're about to drill in 120 odd screws!) 
A helper who can hold things for you. 
Step 3: Mark your first batten placement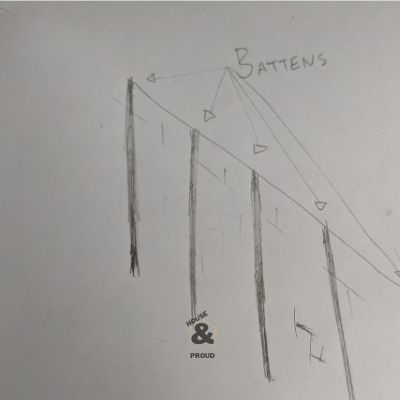 Ok, so there are so many reasons to use battens as a base to screw in your shelf brackets. 
First, it means you're not having to drill dozens of holes in your brickwork. This saves time.
Second, it means that your shelf bracket placement is going to be on point. Drilling into brickwork is not always the most precise art – if you're having to do it for dozens of shelf brackets, then at some point your alignment will be off! 
Third, it just makes the whole process a lot quicker. I reckon if you skip the batten part, you'll easily add an extra hour onto the build time, plus extra for fixing mistakes.
Marking your batten placement is easy. 
First, drill around 4 or 5 pilot holes in each batten. These are going to be your screw points to go into the wall. 
Countersink the holes so that your screw heads won't stick out later on.
Hold a batten to the wall where you want your shelves to start.
Then, get a drill with a masonry bit attached and drill through your top pilot hole so that you make a mark on the brick. 
Step 4: Fit your first batten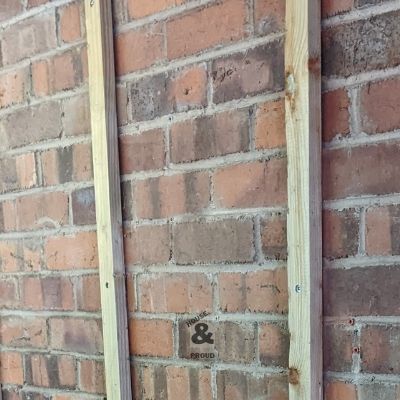 Once you have the drill mark at the top of your first batten, drill a 6mm hole in your wall, and then screw a frame screw through the batten so that it fastens into the 6mm hole in the wall. 
You'll then have a batten that is attached at the top, but can swing side to side.  
All you need to do then is hold a spirit level against it, and nudge it around until it's standing level. 
Once it is, hold it steady, get your drill a thin drill bit and drill through the pilot holes into the wall to make the rest of your marks. 
Then, move the batten to the side, drill your pilot holes and screw in the screws. 
Simple. 
Step 5: Mark and fit the rest of your battens 
Once you have your first batten in place, it's time to mark and fit the rest of them. 
For me, I just carried out the steps above on the batten at the end of where I wanted the shelves, which then left me with starting and ending battens. 
Then I measured the distance between them and spaced the rest out evenly. 
Step 6: Fit your shelf brackets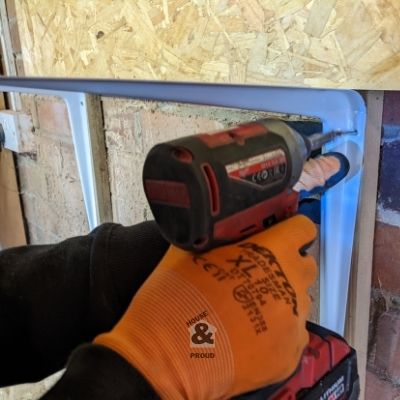 Ok – so you've now screwed your battens on the wall and they are nice and evenly spread out. 
Now, for the fun part (and I think a pretty awesome tip!)
It's time to screw in your shelf brackets… (prehaps fun isn't the right word, actually.)
To do this, the key thing is focussing on getting them all level. This isn't an easy thing to do over such a long shelf… but, this one simple tip will *literally* change your life. 
First, on your starting batten, screw in a shelf bracket at the height you want for your bottom shelf, using a spirit level balanced on the top to make sure that it screws in completely level. 
Then… (and here's the tip) … get one of your OSB shelves and balance it on it's edge so that it's on top of the bracket and stretches across your battens.
Once you've done that, go to the far-end batten, balance a spirit level on the shelf and gently move the shelf up and down. 
This will allow you to mark a perfectly level line on your end batten. (Having a pair of helping hands helps here, but it can be done by one person) 
Here's a picture so you understand what I mean: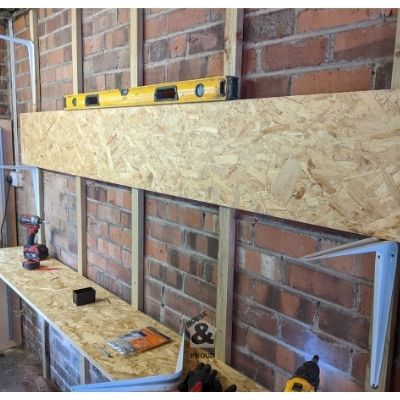 Once you have your level line marked on the far-end batten, all you need to do is screw a shelf bracket to it at that line and VOILA you have two level brackets at opposite ends. 
This then means you can balance the shelf across the two brackets, and then mark your level lines on the other battens, screw in your remaining shelf-brackets and you'll have a perfectly level line of brackets… 
Amazing, I know! 
Step 7: Screw your brakets to your shelves
Once you've fitted all of your shelf brackets, you can start to screw the brackets to the shelves themselves. 
This is really simple: just lay the shelf flat on the brackets, and attach small screws up through the brakets and into your shelves. 
It can be tempting to not use all the screw holes / not attach all of your brackets. But… if you do this, it can increase the chances of warping over time, especially if your shelves are long.
Step 8: Cut a mitered corner on your shelves.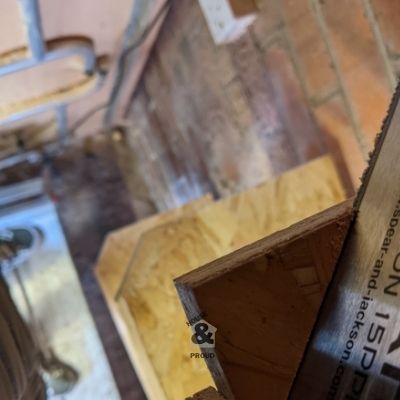 This step is optional, but will likely be helpful for most situations.
As you can see from my pictures, the edges on one side of my shelves were right next to a spot in my garage that I'll be using to access electrical points etc. 
So, I simply cut a mitered corner on these so that I wouldn't end up bashing my elbows over time. Having this mitered corner also means I can't store things right on the edge of the shelf, at a spot where I'm reaching past to get at things a lot… this means there's less chance of me knocking things off. 
To do this, all you need to do is mark a line, and use a tenon saw to cut across each shelf. 
Really simple.
Step 9: Increase the life of your garage shelves by attaching edging strips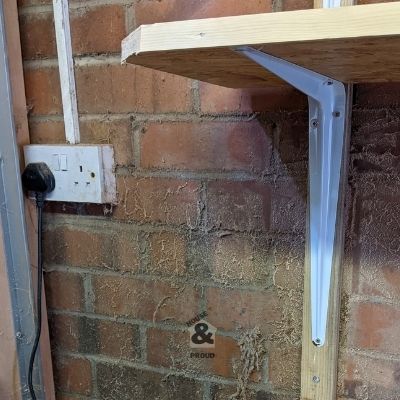 Ok, so I promised right at the start of this article a modification you can add to the shelves to reduce the chances of tearout and chipping over time. 
This is especially useful for shelves made from OSB – all it takes is a few bumps of a paint tin against the shelf edge, and you're pretty much guaranteed to have a chip or two in your shelves. 
Now, actually attaching the edging strips is pretty simple. Just cut them to the right length (you don't have to be overly precise here) and then glue them to the shelf edge using wood glue. 
Then, tack in a few nails along each strip to hold it in place while the glue dries. 
(Top tip – you can use a nail punch to drive nails below the surface of the wood so that they don't end up catching on your clothing etc. over time)
Step 10: Stand back and admire your handiwork!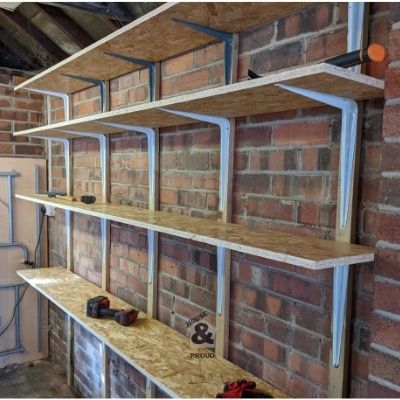 And that's all there is to it! If you've followed all of the steps to the letter, you should now have custom-made garage shelves that are the size you need in the space you want.
Now you've done that, well then you'll have to start actually organising your garage! Perhaps not so much fun…
If you've enjoyed this article, and are interested in DIY, then check out my other Garage DIY projects on this site. Some may be dull, some may be amazing, but you won't find out unless you read on …
More specifically, you might be interested in my step by step guide to repainting garage doors, or restaining wooden shingles, if you're at all like me and are looking to give a bit of TLC to your own garage!
Seriously, though, thanks for checking out this article – it means a lot when I get readers!!