If you're like I was a few months ago, you're after a quick, no nonsense guide for how to install a water butt in your garden using the guttering from your garage. Well – you're in luck! In this article, I'll go through the steps I did to install a water butt. And, you'll be pleased to know that after a few wintery months it's all holding up well with no leaks!
Now, you may be wondering whether a water butt is actually worth it – I think it is, not just because it helps with watering the garden in summer for free, but because (as I have recently found out) it's a perfect emergency supply of water if ever you have a power cut/water outage. Now, I'm not talking about a source of drinking water, but rather a source of water to fill up the toilet cisterns for, well… you know.
Now, to install a water butt using garage guttering, the only thing you need to make sure you have is a downpipe from this guttering that's in an accessible location. If you do, then we're good to go!
Without further ado, here is my guide to installing a water butt (aka a water barrel) in your garden.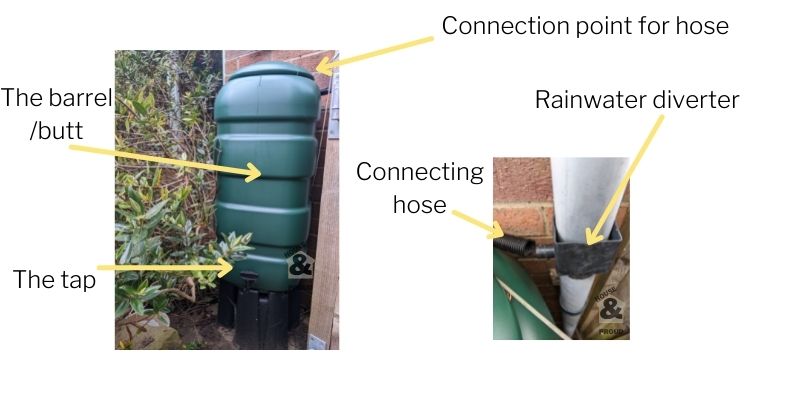 First things first, you'll need to gather up some basic tools
Tools you'll need
Installing a garden water collector is super easy, and requires minimal tools. You'll need:
A hacksaw that can cut PVC plastic (Basic ones are fine – I used this one from Amazon).
A drill or screwdriver
And that's it!
Of course, you'll also need a water butt – if you're looking for a decent one, I can recommend this one from Amazon. It's 100 liters and – in the UK climate – provides us with enough water to water all of our garden beds and pots (we have a medium sized garden with around 4 garden beds and dozens of plants in pots). If you're not in the UK, it seems that these versions of water barrels are hard to come by, so I've modified the link above to take you to the drainpipe diverter system you'll need to have water from your gutters diverted to a water barrel – hope it's useful!
If you get the right water barrel, it will come with all of the fittings you'll need to attach it to your garage guttering. These things are:
A diverter (the thing you insert into your drainpipe)
A flexible hose (the thing that will allow water to get to your water butt)
A tap (the thing that will allow you to drain water from the butt into your watering can)
Step one: Place your water butt next to your garage downpipe.
This one is really simple – get your water butt, put it on its stand, and place it next to your garage downpipe, as shown in the picture below.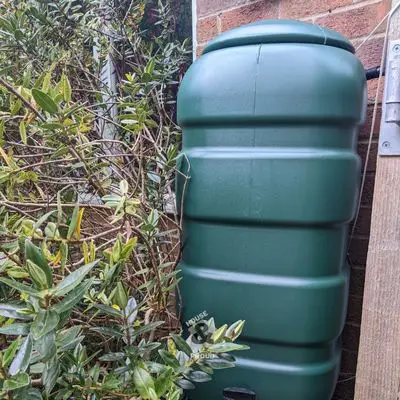 In terms of how far away you can have the butt from the downpipe, that just depends on the length of the flexible, connecting hose that you've been supplied with.
In the UK, most flexible hoses supplied with water butts come in at around 50cm in length, so unless you're planning on buying additional lengths of hoses and extra connectors, your choice of water butt placement will be limited to within 50cm.
Step two: mark and cut your garage downpipe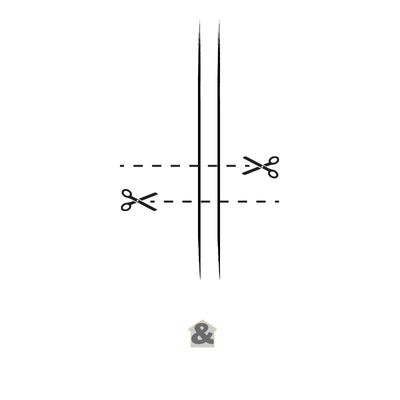 This is perhaps the most "difficult" part of this job, as you'll need to be reasonably accurate with your measurements here. You'll also need to cut fairly straight too (but, you don't have to be perfect).
First, what you want to do is mark a top and bottom cutting line on your downpipe. The exact distance between the two lines will depend on the diverter that was supplied with your water butt, but if you get one that's at all similar to mine, then that should be around 8 or 9cm (if memory serves me correct).
In terms of how far up the pipe you should make these marks to install the diverter, that depends on the height of the water butt. Basically, you want to have the bottom line about 3cm above the hole in your water butt that the flexible hose will connect to.
Don't stress about getting it exactly right – just make sure that your diverter is going to be above the water butt or else water won't be able to flow from the downpipe to the butt itself!
You can use a spirit level to mark these lines, and get them dead on straight, but I didn't and it turned out ok for me!
Then, grab your hacksaw and cut along each line, essentially removing a section of the pipe.
You may need to unscrew the support brackets around your downpipe to get enough clearance around your saw for this, but also, you may not!
Top tip – what worked best for me when cutting was to cut half way through both lines first. This meant that when I'd cut through one line completely and the whole downpipe became less "stable" it was much easier to complete the second cut.
Step 3: Insert your diverter and connect the flexible hose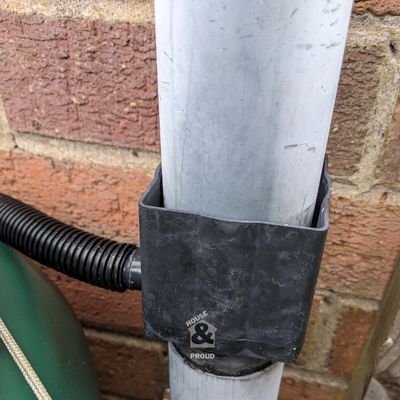 Now that you've got a section of pipe that's been removed from your downpipe it's time to fill that gap with your supplied diverter.
This is as simple as jamming the diverter up against the top section of the down pipe, and then jamming the bottom part of the pipe into the bottom part of the diverter.
Just make sure that the little spout that comes out of the diverter is pointed towards your water butt… yes, you may think that's obvious, but I made that mistake…
Once the pipe and diverter "are one" then tighten up any support brackets you may have loosened, and your pipe will be working just fine.
When your diverter is in place, you can then connect your flexible hose to the spout that comes out of the diverter.
This should be a push fit, without the need for any special tools or fixings.
Step 4: Connect the hose to your water butt and test.
Ok, so by now you'll have the downpipe modified to divert water away to the water butt and the flexible hose connected to it.
All you need to do now is connect the other end to the fitting on your water butt.
Simple! Some water butts require you to drill your own hole to install this fitting… save yourself the hassle and just get one that is already pre-drilled!
The last thing you'll need to do is test that everything works.
The huge advantage of installing a water butt using garage guttering is that the guttering itself is easy to access.
So, to test your water butt is installed correctly, all you need to do is fill up a jug/bottle of water and pour it into your garage guttering.
The water should then flow down your down pipe and into your water butt. Simple!
If not, then don't worry – what follows are some straightforward troubleshooting Q&As.
Why isn't my water butt filling up with water?
There are three things to check to find out the reason why a water butt isn't filling up with water, or is filling up very slowly.
Test your connecting tube.
Ok, so first you want to isolate the issue. Do this by disconnecting your flexible connecting tube from the diverter and pour some water down it.
If it goes through into you water barrel, then the issue is going to be with either your diverter or your pipework.
If it doesn't then either there's a blockage in the flexible tube (unlikely if it's new) or the entry hole into the water barrel is blocked. In which, case, simply remove whatever is causing the blockageage, and this should solve the issue.
Check the height of the diverter installed on your downpipe.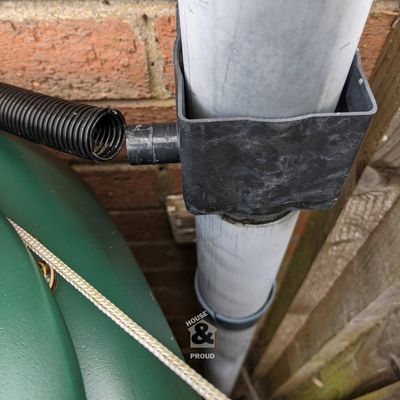 If your diverter is lower that the hose connection point in the water butt, then water won't flow from the downpipe to your water barrel. This is simply because of gravity.
The simplest way to solve this is to drill a new connection point in your water butt that is about an inch lower than the diverter's spout. Then install a new connection fixing, seal the old hole, reattach the hose and bobs your uncle.
Check for blockages
If you've checked the first two things, then the reason for no water flowing into your water butt could be that the downpipe or guttering it is connected to has a blockage.
This may not be immediately obvious, so the best way to rule this one out is to scoop out any debris from around the top of the downpipe. Then unscrew the downpipe from its fixings and remove your diverter – stick a bamboo cane up the pipe and give it a wiggle – if there's anything blocking the pipe this should free it.
Why is the diverter on my downpipe leaking water?
The main reason why this would happen would be down to you installing the diverter incorrectly. Check the following:
Is it the right way up? (Sounds stupid, but it's doable)
Has the pipework been cut smoothly, or is it really uneven? If it is and this is causing a large gap, you might want to look at experimenting with patching things up with some sealant tape.
Is your flexible hose securely fastened to the diverter spout? If it feel loose, or water leaks from it, then consider securing it in place with an inexpensive o-ring.
Summary
This article is intented for readers, who like me, wanted to install a garden water butt using garage drainage but couldn't find a decent step by step guide online.
If you liked this article, you might want to consider some of my other garage DIY articles that I have – perhaps you might be interested in my article on how to make cheap and practical custom garage shelving.
Thanks for reading – it means a lot!