When we first had our wood burner installed in our home, the first thing I set about researching was how to to properly store firewood. I found myself asking the question can you store firewood in a garage, and came across a bunch of useful tips for firewood storage.
So in this article I'm going to dive into how to store firewood in your garage and pass on those tips to random strangers on the internet!
Can you store firewood in a garage? 
Yes! You can most definitely store firewood inside a garage. However, there are a few considerations when doing so. It's not as straightforward as as sticking in a bunch of wood inside your garage and hoping for the best.
Avoid storing wet wood inside your garage
If you have newley processed wood, perhaps from a woodland owned by your great uncle Cecil, then the last thing you want to do is store it inside your garage.
This is because is unlikely to be enough airflow in your garage to properly dry out the wood in an acceptable length of time.
As a result, you may end up with mouldy logs that simply sit on your fire and never burn.
All your then is is smoke billowing out of your chimney and lots of complaints from your neighbours! Not to mention fogged glass on your wood burning stove.
Inspect your logs for bugs before storing them
I can't really stress this one enough,. If you're bringing in in a fresh delivery of wood into your garage, you're potentially also risking bringing in a whole host of pests. 
Bugs that thrive in firewood include ants and termites as well as a whole load of different types of beetles. 
Some of these can cause really damage to your garage if allowed in, so make sure to inspect your logs thoroughly before storing them! 
Make sure to stack your wood neatly for good air circulation
Assuming that you are storing kiln dried firewood in your garage, the last thing that you're you're want to have happened is a gradual build-up of condensation between your logs.
To avoid this, make sure to stack your logs so that there are plenty of air gaps between them underground them.
Also, start your pile on some sort of raised platform like a crate or pallet. This helps air to circulate around the very bottom logs. 
In other words don't just chuck your logs into a pile in the corner of your garage and hope for the best.
I actually find stacking logs a weirdly fun task dash perhaps it's because it makes me think I'm some sort of homesteader in the wild west!
Put your firewood stack somewhere that's easily accessible.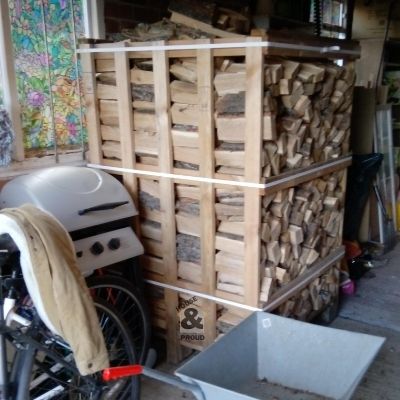 I've included this tip based on years of having to go into the garage to collect firewood on a winter's night.
Now, while at the best of times my garage is is pretty well organised, there's always random bits and bobs lying around.
There's nothing worse on a cold and dark winter's night than tripping around in your garage getting cold trying to find your firewood stack.
If possible, put it close to the garage door so that you're not having to bumble around in the dark just to get a few logs.
This also makes it a lot easier to top up your wood pile with new wood deliveries.
Avoid putting your logs to close to an external wall or structural elements 
If you stack your logs right up against your garage wall, you're risking two things
The first is that you're going to by preventing airflow to the very back row up your logs. 
This this may result in a buildup of condensation and mould in your logs, which you don't want because of the reasons set out above
The second reason you shouldn't store firewood right up against a wall or structural elements is that you increase the risk of any bugs you haven't spotted transferring onto your property. 
As a result, is best to leave around a 10 cm gap between any wall or structural element and your neat stack of firewood in your garage. You can't really see it in my picture above, but trust me that what I do.
Avoid build up of random bits of bark
This is a tip that I can't stress enough. Over the years, if you keep the same area in your garage for firewood storage, your gradually have little bits of bark and wood chippings gather at the bottom of your pile.
Not only does this wood chipping pile build up to prevent air flow at the very bottom of your woodstack, but it also becomes a breeding ground for bugs.
So, make sure from time to time to get a brush and sweep up all of those random bits of bark. Sadly, unless you're chucking these sweepings onto a roaring hot fire they don't really burn that well and not worth keeping in my opinion. Best to bin them! 
Use your head and don't store firewood near fire hazards
As obvious as it may sound, this is an important point particularly if you're based in the UK and your garage isn't huge. 
Maybe it's a tumble dryer, an old gas canister, or even certain types of wood stains and oils.
Either move the fire hazards away from your fire stack, move the fire stack away from the fire houses.
If there's a sure fire way to see your garage go up in flames, it's to store a whole years worth of wood next to something that could catch fire.
Finally, whatever you do don't cover your firewood
It may be tempting to complete the look of your firewood pile by covering the top of it with a tarp.
It could make sense to do this if your garage has a leaky roof, but let's face it: one of the main reasons to store firewood in a garage is to stop it from getting rained on.
Therefore, covering up the firewood with a tarp is a bit pointless. 
More than that, using a tarp to cover your firewood pile in inside of the garage only serves to restrict airflow.
Bottom line is is the while it made it neat and tidy, using a tarp will just increase the amount of moisture in your log pile. If you've done that, then you'll have to check that the firewood is dry before burning it.
Summary: How to store firewood in your garage
Hopefully you've found this article useful and it's given you some solid tips on how to store firewood in your garage. Now, if you're wondering what firewood to actually buy, well then check out my article on what I think the best firewood is to burn in a wood burning stove.