If you're reading this article on how to check whether firewood is dry enough to burn, then most likely you've heard that you shouldn't burn firewood with a greater than 20% moisture content. 
This is because, quite simply, if firewood has too much moisture in it then you'll have incomplete combustion. This means that your firewood will give off more smoke, won't burn as hot, and may be difficult to light. 
All in all, that's not brilliant!
What follows are some simple methods of checking that your firewood is dry enough to burn. The first three of these methods are tricks you can use if you don't have a moisture meter to check for actual moisture content.
I've ranked these methods from worst to best. All are useful to know about, but let's face it, some are a bit of a faff!
The bubble test (the worst method)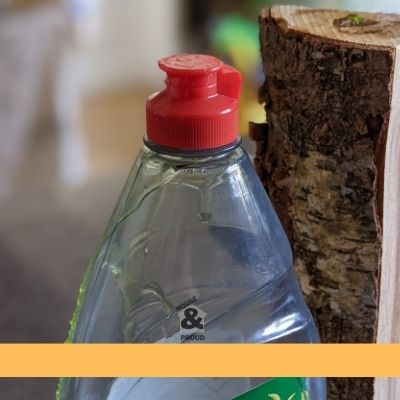 I'm not even going to give this technique the benefit of too many words. Quite simply, it's a bit stupid. 
Basically, to check whether firewood is dry, you put some dish soap on one end (end grain) of the log, and blow through the other. 
If a bubble appears, the thinking goes, then the wood is dry. Why? Because moisture levels are low so the wood isn't swollen, and air can pass through.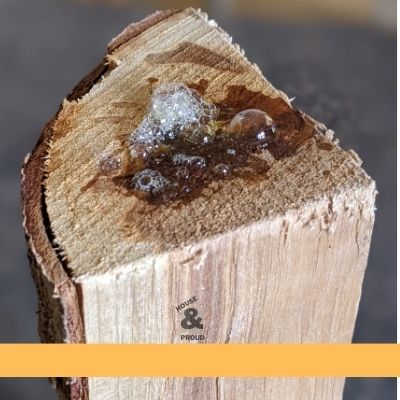 The principal behind this technique is sound, but really!?
My chief objection to this method is that it doesn't really account for different types of wood. As I mention in my review of the best firewoods for wood burning stoves, some wood like oak, has a much denser grain pattern than, say, birch. 
Meaning that to get a few bubbles appearing on an oak log you'll have to blow harder than a … 
Add to that the fact that lots of firewood is firewood because it's taken from the worst cuts of a tree. 
As a result it's often knotty, and there's not many pieces with brilliantly straight grain patterns.
I suspect if you tried to blow through an oak log with a knot in the center, then dry or not no bubbles would appear! 
So, this method is best for novelty purposes only, in my humble opinion. 
Hollow knock test (an okay method)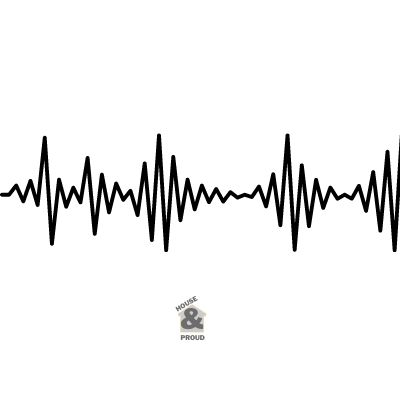 I like this method because, after some experience, you can actually tell a very dry log, from a slightly damp log, to a very wet log! 
You can use the hollow knock method to check if your firewood is dry enough really simply. 
Just knock one log against another, provided they've been stored together. 
If the log is really dry, then it will give a hollow, knocking sound. Sort of like a clicking of fingers, but a bit deeper. 
If the log is slightly damp, you'll still get the "clicking" sound but it will be a bit softer/duller. 
If the log is basically wet, you'll have an all together different noise – something more like a thud than a click. 
Now, like I said, this one takes practice and relies on you doing it a few times with a few different types of wood to get the hang of it. 
So, for that reason, I think it's an okay method of checking wood is dry enough to burn, but not the best if you're not sure what sounds to listen out for. 
Log splitting test (near foolproof)
Okay, so you want to know how to tell if a log is dry enough to burn? Well, try and split it with an axe. 
If it's dry, the wood will almost "pop" open with minimal force. Then, you can get a clear visual indicator that it is indeed dry if there's little to no colour variation between the ends of the log and the inside.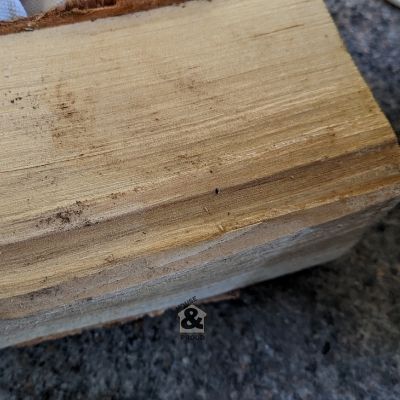 If that's the case, then it's likely your firewood is good enough to burn!
If it's still damp/too wet, then you'll find that you'll have to apply a little more force, and may find that the axe becomes buried in the wood. If the wood grain has too much moisture, it bends and flexes when force is applied, which is what stops the axe from passing through cleanly. 
This method is near foolproof because it gives you a good visual and physical indication of "dryness."
However, it still relies on having a little experience of what dry wood actually feels and splits like. 
Get a moisture meter (the best method)
Okay, maybe this is anticlimactic because it involves going out and buying something. But, I think a moisture meter is an essential piece of kit to own if you have a wood burning stove. 
Most moisture meters work by sticking in two sharp pins into a piece of firewood. After passing a small current between the pins, the moisture meter then spits out a percentage moisture score. 
In all it takes around a second. 
Now, not all moisture meters are born equal! 
Some, especially cheap ones, might give very inaccurate readings, so it's best to opt for a slightly more expensive one. (I bought this one from Amazon)
But, if you end up with a semi-decent meter, then you'll have complete peace of mind that you're burning firewood at its optimal moisture level. 
They're also useful to check whether an outdoor log store needs any extra siding if you use the meter to compare logs at different storage points. 
However, the main benefit that a moisture meter gives you is the confidence to understand what completely dry firewood looks like, sounds like, and splits like. 
Over time, you'll then be more able to do the hollow knock test, and get an instinct for what really dry wood sounds like. Or, you can get a benchmark in your head of what really dry wood is like to chop, and then use the log splitting test in the future. 
Will having one change your life? Probably not. But they're pretty cool. 
Summary: How to check that firewood is dry 
Hopefully this short and sweet run through of the various methods that are out there to check that firewood is dry enough to burn has proved useful! 
If you're currently in an internet wormhole looking at all things firewood, then you're in luck! If you enjoyed this article, you might enjoy my others on how to store firewood in a garage, and how to light a top down fire in a wood burning stove. 
Enjoy, and thanks for reading!